Biotin supports healthy fasting blood glucose, supports healthy plasma triglyceride balance, and improves glucose intolerance.
Magnesium has a broad positive effect on overall health and insulin sensitivity.arlic Extract supports healthy serum uric acid.
Gymnema Sylvestre Powder has been suggested in studies to have a promising ability to promote healthy circulating insulin balance and serum lipid and triglyceride balance.
Licorice Bark Extract has been suggested in studies to be effective against unhealthy blood sugar.
Zinc deficiencies can result in hair loss, diarrhea and skin lesions and could adversely affect eyesight, taste, smell, and memory function.
Chromium has been shown in studies to improve glucose and lipid effects.
Cinnamon Bark Powder has been shown in studies to promote healthy blood sugar balance.
Banaba Leaf Extract has been shown in pre-clinical studies to support healthy cholesterol balance and support the rate of glucose uptake. These studies further suggested banaba contains insulin-like actions.
Vitamin C plays an important role in glucose metabolism and oxidative stress on the body systems.
Vitamin E promotes healthy insulin action, metabolic control, and endothelial function.

Bitter Melon Fruit Extract has been shown in preliminary studies to contain insulin-like properties.
Guggul Extract has been used for thousands of years to address illness, cholesterol and obesity. It contains antioxidant, anti-swelling and hypolipidemic properties.
Alpha Lipoic Acid fights against oxidative damage to the lungs and vascular system. It can also support healthy peripheral insulin sensitivity, insulin function, and healthy blood sugar balance.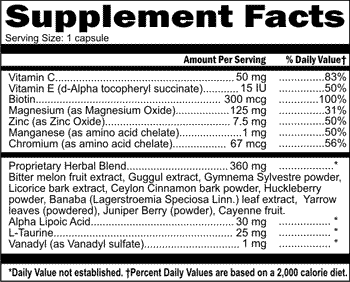 How good is Diamaxol™? Just read what our satisfied customers say ...

I lowered my blood sugar 40 points the first month of taking Diamaxol.
"I lowered my blood sugar 40 points during the first month of taking Diamaxol. I have been taking Diamaxol for one year now.

I don't get fatigued as much and my body doesn't retain water in my ankles like it did before I started taking Diamaxol. I learned about Diamaxol via the Internet when I wanted to find an alternative to control my blood sugar. I would recommend it to my friends!"

Susan H, (FL) 09/17/2008
EM, Littleton, CO
---

I feel fantastic.
"Two years ago I had a random blood test for my blood sugar. It came back extremely high. After the initial panic attack went away, I started to do some research through different Internet sources on blood sugar.

I found other people's testimonials on how Diamaxol was an all-natural diet supplement that helped with blood sugar. I ordered two bottles right away. Within the first ten days of using Diamaxol my blood sugar readings were within the normal range. I have taken it ever since and have been completely satisfied.

To this date I have not had any other signs of blood sugar issues. It helped me take off the extra pounds I needed to lose. After changing my eating habits and with the daily supplement of Diamaxol with each meal I feel fantastic."

Jamie C, (ID) 09/18/2008
---

Diamaxol works great!
"I've been taking Diamaxol for four years and have not had to use anything else. Within three to four weeks of taking the Diamaxol, not only did my blood sugar stabilize, but my cholesterol normalized as well. I have recommended this to everyone I know that is facing this problem. I have actually had doctors tell me that my blood work came back better than most people who don't have this condition. Diamaxol works great! Thank you!"

Jason K, (GA) 09/29/2008
Diamaxol Has Been Featured On These Great Sites:

Questions and Answers about Diamaxol™
Q: How safe is Diamaxol™?

A: Diamaxol™ is made with all-natural ingredients and no harmful fillers, steroids, or chemicals, and it is safe to take on a regular basis. Pregnant or nursing women should not take Diamaxol™. As always, consult your health professional if you have a concern.

Q: How much Diamaxol™ do I need to order?

A: With regular use, each Diamaxol™ bottle is a month's supply. When you commit to an optimal program of three to six months, or if you choose to increase your intake based on your weight, take advantage of our multi-bottle discounts that can save you up to 40%.

Q: How do I take Diamaxol™?

A: You will achieve the best results when you take one or two Diamaxol™ capsules consistently with your three main meals. The natural nutrients in Diamaxol™ support your healthy lifestyle from a holistic approach, so it's important you keep a continual stream of Diamaxol™ in your system. Diamaxol™ is not a drug, so it may not work overnight like a drug. We have found an optimal program to be three to six months, but many Diamaxol™ customers have reported satisfactory results within the first month.
Q: Can I take Diamaxol™ with my current medication(s)?

A: The Office of Dietary Supplements of the US Food and Drug Administration suggests you "check with your health care providers before taking a supplement, especially when combining or substituting them with other foods or medicine."

Q: Are bitter melon, cinnamon, gymnema silvestre, and banaba in Diamaxol™?

A: Yes! Each ingredient in Diamaxol™ was chosen for its ability to naturally support healthy blood sugar.

Q: I have difficulty swallowing. How do I take Diamaxol™?

A: Simply pull the capsule apart and thoroughly mix the contents with juice, water, oatmeal, yogurt, or your favorite healthy snack. Our customers share a helpful hint to swallow capsules - place the capsule in your mouth, add water, and tilt your head slightly forward, chin to chest, swallow, and then lift your head. This simple movement allows the capsule to float to the back of your throat, making it easier to swallow.

Q: Am I guaranteed the same results as expressed in the success stories?

A: No two people are exactly alike, so we can't promise you'll get the same results as another. However, you may see similarities, because positive results are likely. We can promise you if you're not 100% satisfied with Diamaxol™, you can send it right back to us for a refund. Where else in life is your success actually guaranteed*? Think of it as your safety net. Now get ready to fly!

Q: Can I take Diamaxol™ when I am pregnant?

A: Pregnant or nursing women should not take any nutritional supplements unless approved by a qualified health professional.

Q: Do I need a prescription to buy Diamaxol™?

A: No, Diamaxol™ is classified as a dietary food supplement and therefore does not require a prescription.
Free Shipping On All Orders Over $50!

Most Popular Option Buy 2 Get 2 FREE!
BUY 2 BOTTLES OF DIAMAXOL™,

GET 2 FREE!


Retail value:

$228.00


Now only:

$114.00

---

Best Value Option Buy 3 Get 3 FREE!
BUY 3 BOTTLES OF DIAMAXOL™, GET 3 FREE!
Retail value:

$342.00


Now only:

$167.00

---

Single Bottle Option Buy 1 Get 1 FREE!
BUY 1 BOTTLES OF DIAMAXOL™, GET 1 FREE!
Retail value:

$114.00


Now only:

$57.00

---

Single Bottle Trial Option Buy 1
BUY A ONE MONTH TRIAL SUPPLY OF DIAMAXOL™
Retail value:

$57.00


Now only:

$37.00
We Ship Via:

You Must Be Satisfied

With our product you can't lose. In fact, we're so sure of your success that we are offering all of our customers a risk-free guarantee for a full 90 days of your original purchase. The deal is this: try our product for yourself to see the great results. If you're not happy with your purchase, then simply return the used packaging after you are finished for a full refund less processing fee shipping and handling.